Unique Team building Activities for Work
It's hard to believe that Out of the Ordinary has been creating team building programs since 1996. Guess that saying "time flies when you're having fun" really is true!  Over the years, we've evolved, and it's been so much fun seeing our company expand, transform, and exceed our wildest expectations!
One thing's for sure, coming up with creative and innovative ideas that are wildly FUN and help build a positive company culture is something we truly relish. In fact, we like to think of it as our "Superpower!" So, what are some of our new and unique team building activities?  Since our menu of offerings is constantly changing, there's lots to choose from but here are some fun team bonding activities that companies are talking about: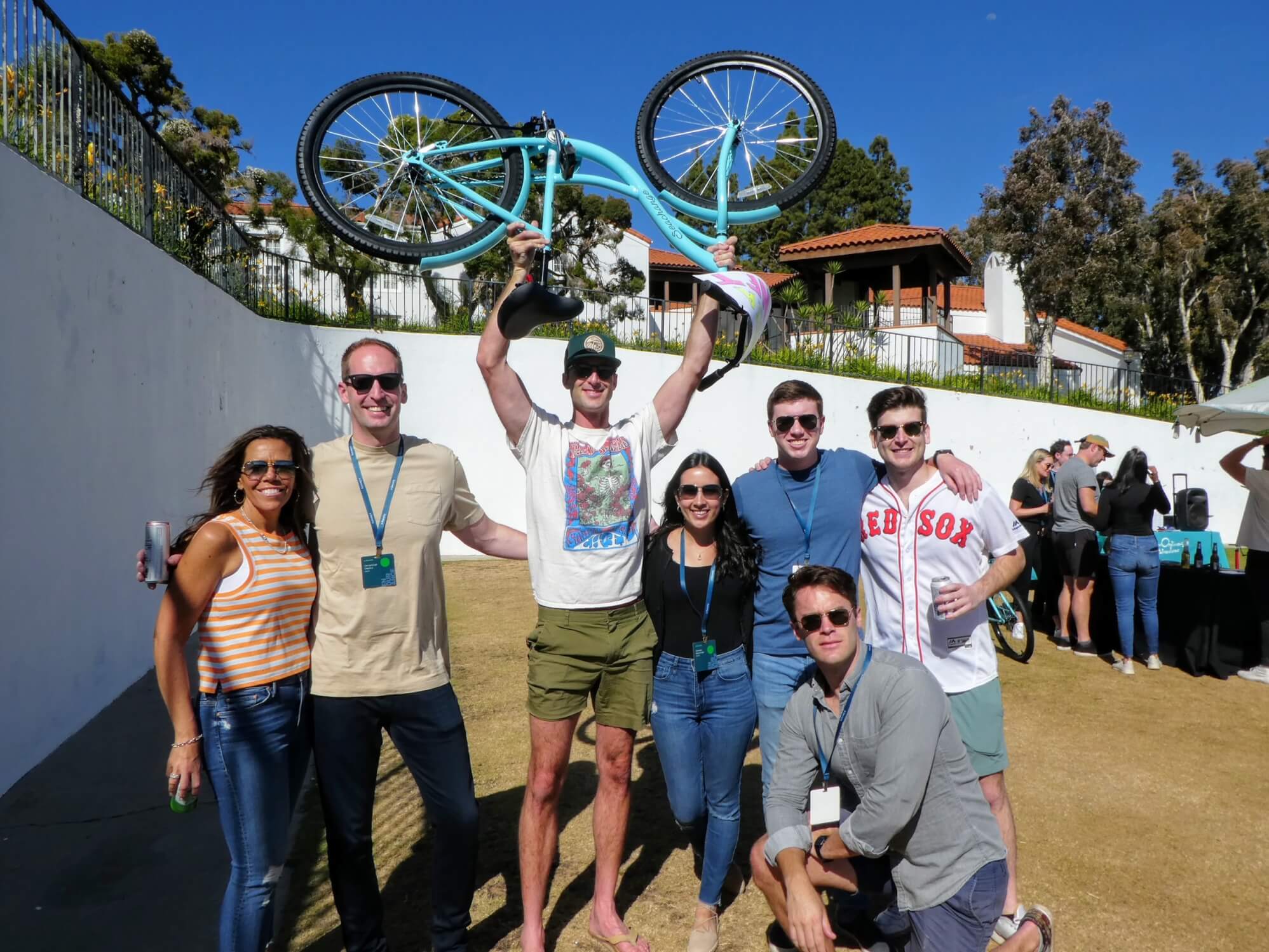 *Charity Canine Care Package Build:  If your team loves animals, this is a heartwarming Corporate Social Responsibility program, that will leave your people grinning from ear to ear! In this 2-hour activity, teams will get to build and create a one-of-a-kind Canine "Care Packages" that will include treats, toys and a brand new dog (or cat) bed! And to make things even more fun, teams will earn these items by competing in fun challenges. They'll also create a Marketing Presentation (think Shark Tank!) to a panel of judges.  The team with the highest score will walk away with First Place medals but the big winners are the animals who get to enjoy these gifts! San Diego has plenty of worthy & meaningful Animal Shelters & nonprofits to choose from.
Want to take this activity to the next level? With advance notice, we can bring animals that are up for adoption to your team building event! This is a wonderful addition as it gives exposure to the Animal Shelter and the animals often have a "calming effect" on people.  It's all part of our "Destress with Dogs & Cats" program.
*Smoothie Showdown: studies show that employees who regularly work out, watch their diet and are good at balancing their work and personal lives, are often healthier and happier than employees who don't take care of themselves. In this fun & interactive challenge, teams will compete in game challenges to earn Smoothie recipes and ingredients. They'll also create a Marketing Commercial for their Smoothie creation.  The team with the highest score will walk away with First Place medals!   But, that's not all as this activity is filled with lots of helpful, healthy takeaways. Our Nutritionist will guide teams and offer good advice on how to create tasty and healthy smoothies!
*Scavenger Hunts at Hotels:  Our impressive list of Scavenger Hunt locations continues to grow! We now offer custom Scavenger Hunts at various hotel properties such as Paradise Point Resort, Bahia Resort, Loews Coronado, Catamaran Resort, San Diego Mission Bay Resort, Four Seasons Residence Club Aviara in Carlsbad and Westin Rancho Mirage Golf Resort & Spa.  We also offer 15+ Scavenger Hunt locations in various communities. Our most requested include La Jolla, Balboa Park, Encinitas and the Gaslamp Quarter.
Wellness Walks: Over the last three years, stress levels have increased dramatically and with good reason. Between the pandemic and more people working remotely, studies show that many employees say they feel more anxious.  Employers who put a priority on employee health and wellbeing see numerous benefits, from higher engagement, improved work productivity and lower turnover.  Fortunately for us, San Diego has amazing year-round weather so getting outside and staying physically active are all part of the SoCal lifestyle. Our Wellness Walks have seen incredible growth since 2020 and companies like Kaiser Permanente have incorporated our walks into their Wellness Programs on a monthly basis. The guided walks are designed for all fitness levels and showcase Secret San Diego spots. Popular areas include La Jolla, Coronado, secret canyons and bridges in Bankers Hill/Balboa Park, Point Loma/La Playa & Shelter Island, Encinitas, Solana Beach & the Cedros District, Kate Sessions & nearby neighborhood, Hidden Gems of Mission Hills, Glider Port & hidden gems on UCSD campus. Some walks can also feature a "walk and talk" component with nutritionists, health & fitness experts and breathing tips.
Bonus Video: Looking for a unique way to show your appreciation and bring your team together?  Click this link for fun ideas:  Engaging your Employees