Here's a list of our Virtual Team Building programs.
Neighborhood News Team Challenge: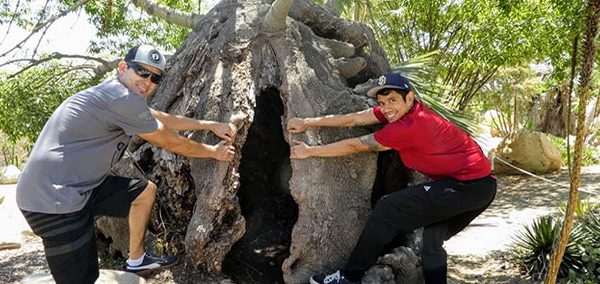 Our Neighborhood News Team Challenge is an interactive activity that combines elements of our classic Scavenger Hunt and our innovative Movie Making Team building challenge. Think cool technology meets good old-fashioned fun. For this competition, teams will put together a video showing us their favorite neighborhood and why they think it's the best. This activity is all about getting outside and including as many historical landmarks, colorful public art, murals, businesses, unique landscaping and other hidden nuggets that set their favorite neighborhood apart. Teams will be coached by a former TV News Reporter on how to craft a story and use their smartphones to shoot and edit. Just like a real news team, they'll have to work together to finish the assignment on time. Who will be the on-air talent? Who will produce? Who will be the editor? Teams will be judged on creativity, resourcefulness and uniqueness by a panel of journalists. This is a unique team building experience that's fun and filled with lots of takeaways.
Mastering Virtual & Hybrid Meetings
With more people spending time online, communicating your message in a relevant and effective manner is KEY. Whether you're producing your first Hybrid Meeting, preparing for a video job interview, creating a marketing video or simply want to look your best on a Zoom call or TV interview, this coaching session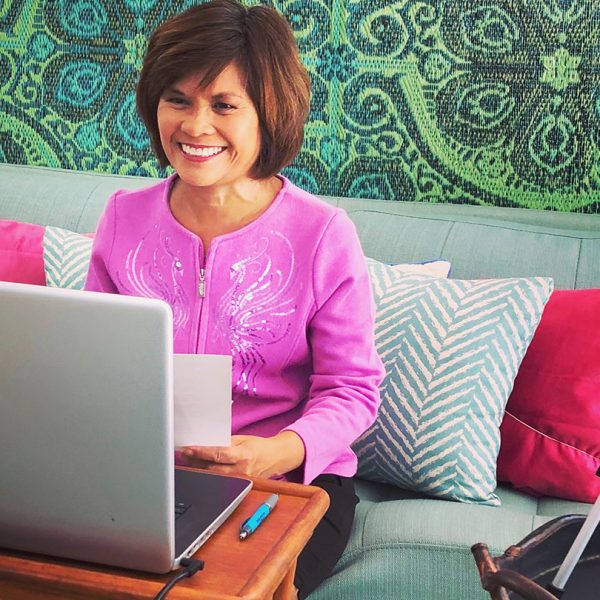 is something you can't afford to pass up. Award-winning TV News Broadcaster and now a business owner, Darlynne Reyes Menkin understands your challenges. Her career as a long-time Anchor and Reporter combined with her business & team building background, gives her a unique perspective that other media/video coaches won't have. This is a customized coaching program that is designed to fit your goals. The sessions can be done as a private or group workshop. Participants can be mentored in any of the following areas:
On-Camera Coaching

Corporate Video Training

Hybrid Meetings Consultant

Presentation & Interview Skills/Image Consulting

Shooting/Editing Video Tips

Marketing your videos

Public Speaking
Fun Ice breakers
Feeling burnt out from attending too many Zoom meetings? Would you like to kick off your next Virtual meeting on a FUN note? Our time-tested Ice Breaker games are not only a blast, they'll get your team laughing, talking and sharing stories with each other in a memorable way. These creative icebreakers can easily be executed virtually and can be used a variety of ways either to start the meeting OR in the middle or end of your day to re-energize your team! Some of our popular ice breakers include: Pay it Forward, Mr. Right & Mrs Left, Show me your Favorite, What's my Line?
Family Feud:
If you love the popular TV Game Show "Family Feud," you'll love this virtual team building program. It's just like the hit show - complete with all the sound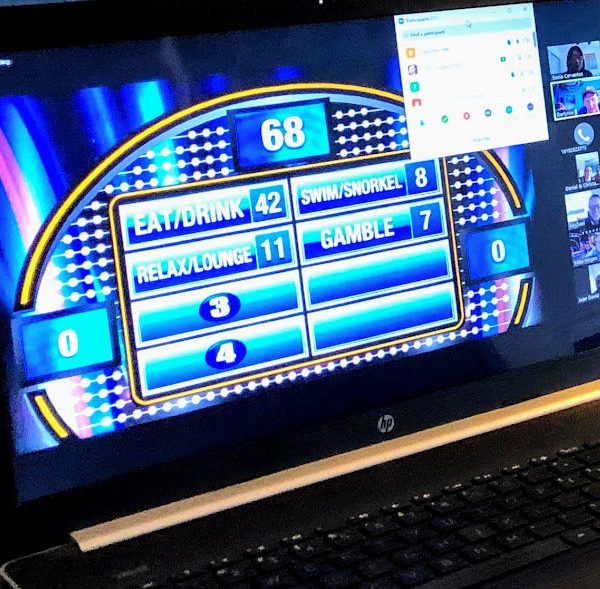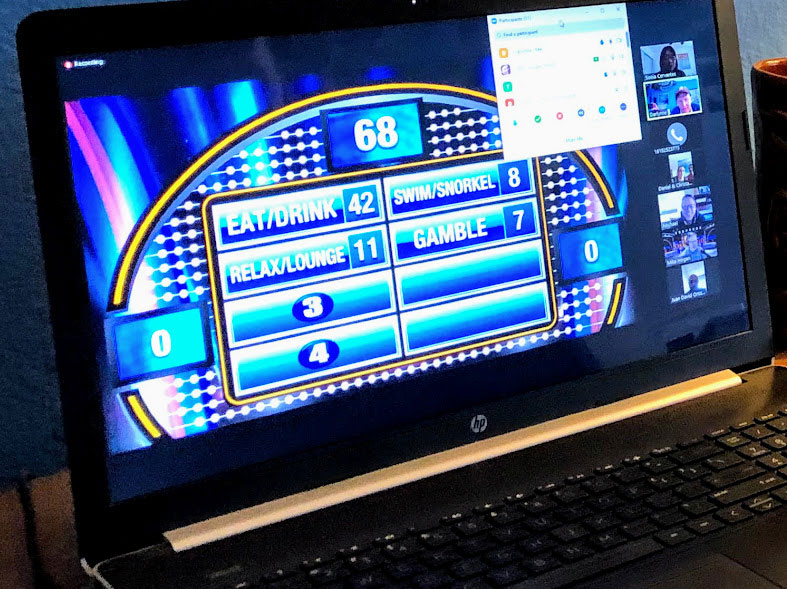 effects, music and questions but now, YOU'RE playing the game and your team can experience it right at home. Cost includes all coordination/planning and execution of the event; staffing, professional emcee/facilitator, technicians, buzzers, sound system.
Jeopardy:
Test your wits and see if you've got what it takes, in our fun Team Jeopardy extravaganza! Just like the hit TV Game show, this is an ideal activity that brings your team together, in a positive & uplifting way. Questions can be customized to revolve around your company or industry. Cost includes all coordination/planning and execution of the event; staffing, professional emcee/facilitator, technicians, questions, sound system.
Health & Wellness: Hula Fitness Dance Workout
Getting back in shape will never be the same, thanks to our all new "Part Hawaiian Dance, part Workout" Exercise craze! This is a unique workout session that combines the beautiful movements of Hula with exercise moves. This activity is designed for all fitness levels and is led by a professional Hawaiian Dance instructor. This activity also touches on the meaning of Hula, and why it plays an important role in our Polynesian cultural roots.
San Diego's Magic Experience
What better way to spice up a meeting than with magic! During this interactive high energy show, your team will be WOWED by our illusionist who will perform a series of magic tricks. And then just when you think you've seen it all, your team will participate in a magic trick together, culminating with your group asking the question "how did he do that??"
Please Reach Out
We'd love to hear from you!