Take advantage of the Virtual World and keep your teams connected.
Here's a starting list of fun options.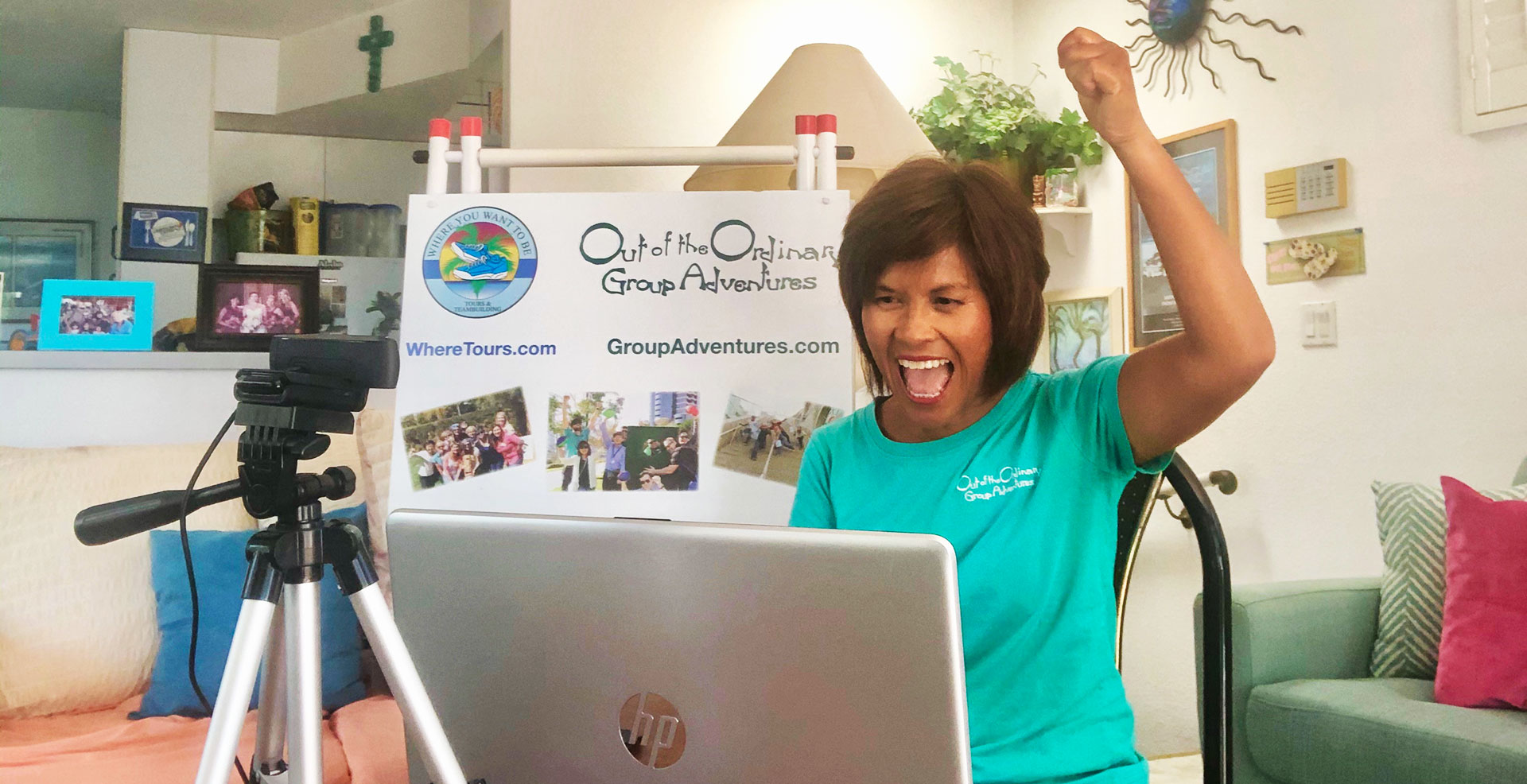 Fun Ice breakers
Feeling burnt out from attending too many Zoom meetings? Would you like to kick off your next Virtual meeting on a FUN note? Our time-tested Ice Breaker games are not only a blast, they'll get your team laughing, talking and sharing stories with each other in a memorable way. These creative icebreakers can easily be executed virtually and can be used a variety of ways either to start the meeting OR in the middle or end of your day to re-energize your team! Some of our popular ice breakers include: Pay it Forward, Mr. Right & Mrs Left, Show me your Favorite, What's my Line?
Virtual Scavenger Hunt
Over the years our Award winning, in-person Scavenger Hunts have earned quite a reputation in the Team building industry. But thanks to technology and our amazing Creative Team, we now offer a super fun Virtual Team Scavenger Hunt! This is NOT one of those generic, online Scavenger Hunt templates. It's an interactive event that's uniquely designed and led by our team of talented & fun loving facilitators. Competitors will be led through a series of fun & engaging tasks. The end result? Participants will learn something new about themselves and each other, all while having a blast! Activity can be tailored for both small & large groups.
Family Face Off Game Show
Survey says! Just like the popular TV Game Show, everyone is bound to have fun in this hilarious, wacky competition. And the cool part? You can experience all in the comfort of your own home! In this high energy team building activity, teams will be tested to see how fast they can think on their feet while answering survey questions. Teams of 4 to 6 players will compete "tournament style" followed by a Championship Final Round. This is an excellent Team bonding activity that's a crowd pleaser. This game is the real deal - it has the buzzer sounds, the same fast moving theme music AND our team of facilitators are great at keeping the party going! Cost includes all coordination/planning and execution of the event; staffing, professional emcee/facilitator, technicians, buzzers, sound system. Program runs 1 to 2 hours, depending on group size.
Jeopardy
Test your wits and see if you've got what it takes, in our fun Team Jeopardy extravaganza! Just like the hit TV Game show, this is an ideal activity that brings your team together, in a positive & uplifting way. Questions can be customized to revolve around your company or industry. Cost includes all coordination/planning and execution of the event; staffing, professional emcee/facilitator, technicians, questions, sound system.
Team Cooking and Cooking Shows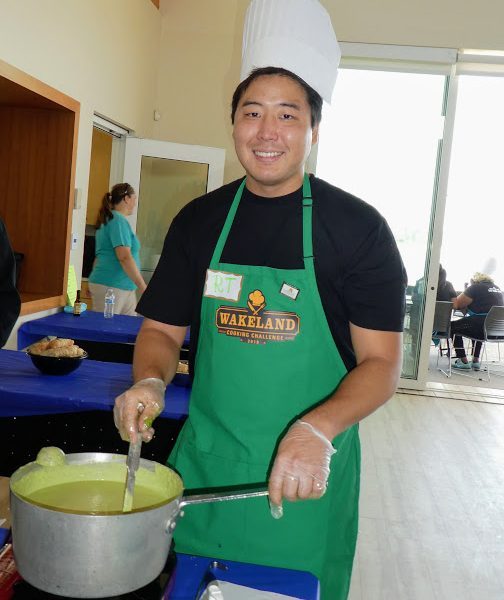 The Culinary Cooking Challenge: Virtual Edition is led by our high energy, fun-loving professional chefs. With the objectives of your team building needs uppermost on the menu, they will coach your associates on the fine art of cooking. Our chefs will work with the participants to further develop bonding, trust building, and open and clear effective communication.
Out of the Ordinary's Cooking Challenge is a totally customizable experience designed to meet and exceed your team building or individual goals. The event runs 90 minutes to 2.5 hours.
Cookie Monster Team Building
In this high energy activity, teams will put their baking skills to the test. But don't worry – our team of fun loving chefs along with a very special guest – Cravory Cookie Company's head "Cookie Monster" will guide you every step of the way.
During this adventure, teams will participate in a series of mental and physical challenges to earn special ingredients. Not only will teams create an original, tempting and tasty treat, they'll also conceptualize and design a brand that will be marketed to the judges. Teams will be judged on taste, creativity and presentation.
Looking for a Give Back angle? No problem. Your creation can be donated to a worthy cause such as The Food Bank, The Enlisted Project (STEP) or It's All About the Kids.
San Diego's Magic Experience - Virtual Edition
What better way to spice up a meeting than with magic! During this interactive high energy show, your team will be WOWED by our illusionist who will perform a series of magic tricks. And then just when you think you've seen it all, your team will participate in a magic trick together, culminating with your group asking the question "how did he do that??"
Virtual Smartphone Teambuilding Challenge
Feeling a little disconnected and out of sync? Maybe it's time you re-energize your remote team and get them interacting with each other in a whole new way! Our Virtual Smartphone Team Challenge will not only test your staff's creativity and resourcefulness skills, it will also challenge their technology and problem solving expertise.
HERE'S HOW THE CHALLENGE WORKS: Teams will put together a video using photos and/or videos that are currently on their smartphones. It can be family photos or vacation photos... you name it! Each team member will select a few images on their smartphone, and then combine them with other team members' images, to create an engaging video that tells a story.
Teams will receive Virtual coaching from a professional TV News Reporter on how to craft a story and edit using your smartphones.
Remember, this is a VIRTUAL ACTIVITY which means team members will accomplish their specific responsibilities on their own, but they'll need to stay connected and work together as a team, in order to meet their deadline. The completed videos will be shown during a high energy Zoom presentation, and will be judged on creativity, best storyline and editing. The team with the highest score wins First Place Medals!
This is a fun, feel good activity that gives team members an opportunity to bond and have fun, in a SAFE manner.
Do you have your own ideas or want a specific custom program not listed?
The Best of the Best of San Diego:
A livestream, interactive Zoom show featuring all the entertaining things you can see and do in America's Finest City. Think Entertainment Tonight but with a San Diego twist! Featuring Live Q&A with Tour Guide experts, San Diego Trivia and secret sightseeing tips, all delivered in a unique and upbeat, fun cinematic experience.
*Fostering a positive work environment is something we all strive for. And now, there's increasing evidence that if you want a healthy and happy team, it all starts with building a strong workplace culture. Our Personal Development series is a mix of real time interaction and pre-produced Video Segments. 
Show Topics include:  
Healthy Eating Habits

Work life balance

Leadership Development

Managing Finances

Safe, Outdoor Activities 

Benefits of Team building