Unique San Diego – Sights and Sounds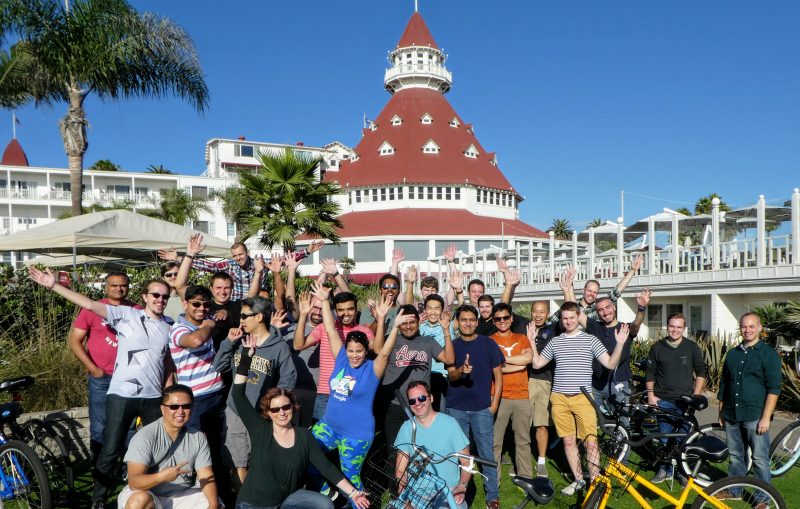 Group from Google who were staying downtown. They came across the bridge for our Discover Coronado Biking Adventure.
Our Top 9 Adventure Ideas in Coronado!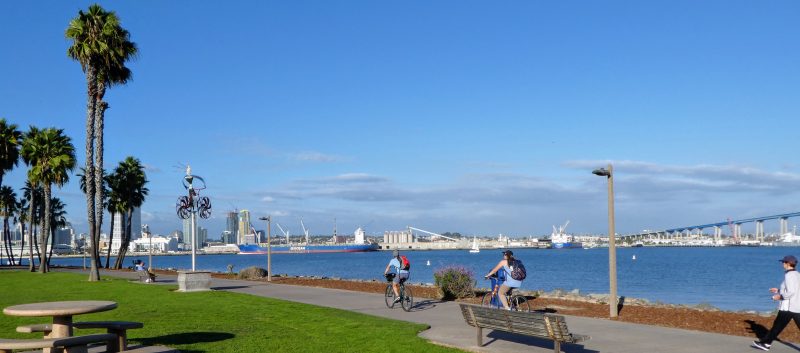 Below is a list of Coronado sights. We included some hyperlinks so you can check them out for more info.  Our sister company, Where You Want To Be specializes in fun tours of unique spots and many of these are featured in our Coronado tours.
1. Emerald C Gallery:  Cool, unique art gallery not far from Hotel del Coronado; features local artists.
2. Tent City: This is a unique outdoor Public Art display that pays tribute to Coronado and how its evolved over the years.
3. Village Theater; This is a one-of-a-kind theater… each theater is uniquely designed and all have 'San Diego' themes. 
4. Spreckels Park: This is a lovely park located right on Orange Avenue. There are free concerts here in June, July and August on Sundays at 6 PM. The bands are often cover bands. You can bring in food and drinks. It is one of our favorite adventures on the island!
5. Wine a Bit:  Popular, charming Wine Bar on Orange Ave. Be sure to go all the way to the back of this colorful store. This area is where they also do their popular wine tastings.  On Saturdays, they usually have great live music starting around 6 PM.
6. Moo Time:  Great place if you have a sweet tooth and love ice cream!
7. Biking along Ferry Landing is highly recommended.  The bike Pat is nice and flat and you get great views of the Bay and the Downtown Skyline.  Hollands Bike Shop is a good place to get bike rentals.
8. Hotel del Coronado is a lovely resort. It's filled with lots of history and great stories. Be sure to check out the bottom floor where all the gift shops are located. The resort's ballroom on the main floor is also worth checking out.  It has fun history and photos. Marilyn Monroe's film Some Like It Hot was filmed here.
9. Dog Beach;  Dog lovers will appreciate this beach…  not far from the Hotel del Coronado