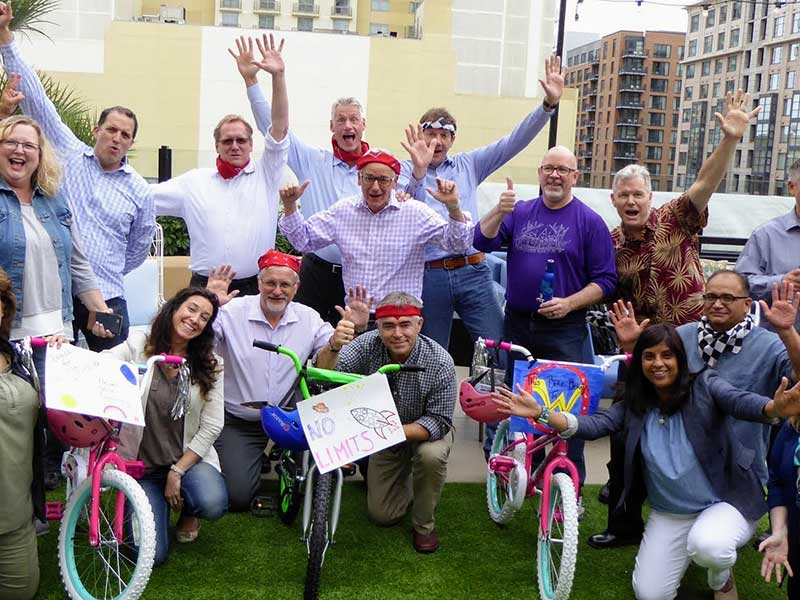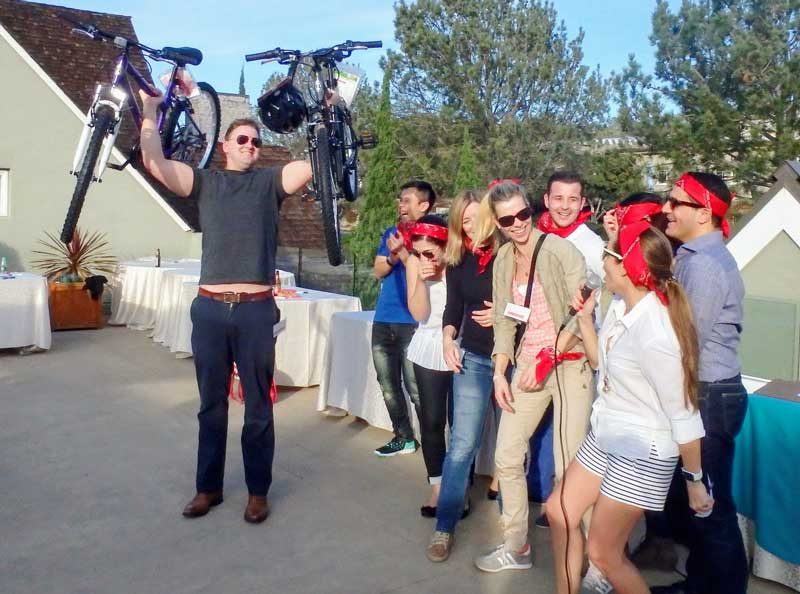 In 2017, we introduced our new "One for One" Give Back Program! The concept is simple: For every job we land, we'll donate a bike to a worthy cause. Last year, the recipient of our program was "Toys for Joy," an annual event organized by the Rock Church every December.  In 2018 & 2019, we are donating bikes plus basketballs and soccer balls to deserving kids.   If you have a charity that's close to your heart, let us know!
Contact  darlynne@groupadventures.com  or marc@groupadventures.com
Teambuilding Programs that feature "Give Back" Options:
Biking Adventures with Veterans
Charity Backpack Team Challenge
Red Wagon Building
Over the years, we've partnered with numerous charities including:
Family bonding programs for the Military
Churches and Faith Based Groups
Non-profit organizations including YMCA, Susan G. Komen and local Schools/Universities
Bicycle Donations to deserving kids. Some recent recipients of bikes are:
 A few other cool things!
Learn the unique art of Drumming
Building bikes or trikes; Visiting veterans or seniors.
LOOKING TO GIVE BACK - Click Here to See Our Video
If philanthropy is important to you, we will  incorporate a "Give Back" option at our last stop.  Perhaps your group can build trikes, kids' bikes or fill backpacks.  Note: This is a customized, specialty feature with additional costs.  Depending on what your group selects, it may also require more time.  
CHARITY BIKE BUILD TEAM CHALLENGE
Wow – fun and competition, along with a real service to the community! Excitement, laughter, camaraderie, and good will be fostered in this fast-paced team event. Your group will be divided into teams of 10 or less. Their task will be to assemble a bicycle or other toy, using a packaged kit, tools and some creative extras. The group must decide on a plan to achieve their goal in time, to utilize everyone's skills and to market their finished product to the judges.
During the assembly process, there will also be a table available with supplies to "enhance" the finished product and to create marketing posters.
At the conclusion of this event, the bikes will be donated to a local charity for children.
Biking with Veterans
Your team takes a fun, relaxed spin on beach cruisers to secret spots with veterans or enlisted military. We can include a stop for ice cream or appetizers. There are 7 different areas we offer biking adventures. Coronado, La Jolla and the Balboa Park areas are the most popular.  See more info at our BIKE TOURS page.
Charity Backpack Team Challenge
Instead of building and donating bikes, teams are putting together backpacks.  The formula is the same, where teams compete for their choice of backpacks and other school items to be inserted in the backpack.  Teams will also be judged on Marketing Commercial and colorful poster. Think Shark Tank!
Red Wagon Building - Click Here to See Our Video
In this fun, high energy activity, teams build and decorate Wagons for kids in need. Minute to Win It Challenges are incorporated into this program, to win toys for their team to place inside the wagon.
OTHER GIVE BACK PROGRAM OPTIONS:
Our popular Urban Challenge Scavenger Hunts and Minute to Win It Team Challenge can also be customized with teams playing for a cause OR inviting members from the charity to be involved with team building games.
Links to these adventures are below…
"We feel blessed to do what we do in such a beautiful city. We never take it for granted. For us, helping others is essential. We want to be known as a company that gives back to San Diego and inspires others to do the same."
Darlynne Reyes Menkin
"When we launched this company, we knew we wanted to use it as a vehicle to help others. Giving back is one of the greatest ways you can contribute to society.  Whether it's donating clothing or spending time with underprivileged children, giving and serving others is beneficial and meaningful to our city."
Marc Menkin 
So don't get tired of doing what is good. Don't get discouraged and give up, for we will reap a harvest of blessing at the appropriate time.  (Galatians 6:9)