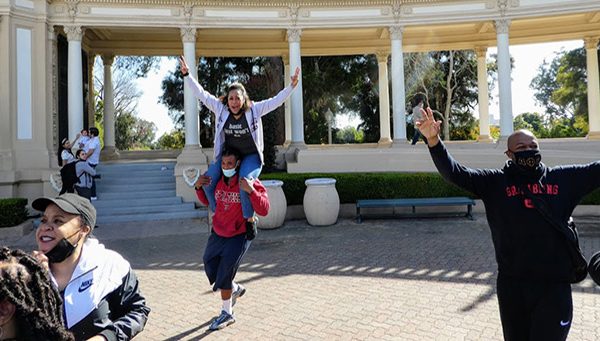 Now that California is slowly reopening, we feel a change coming on. Hope is in the air! Next month should look a lot different than last April and that bit of news is bringing a smile to so many Californians.
Of course, we still have to be careful but with California implementing its looser tier restrictions, San Diegans are feeling encouraged and say they can't wait to get back to their lives.
We noticed the shift in mood earlier this week when the phone calls and emails started to come in. They were all from companies wanting to book Team building activities. That's music to our ears! Most requests are still for our Virtual activities, such as our Scavenger Hunts and Game Shows, as well as our Original Livestream Programs but we're now seeing a nice pickup in our In person Team building requests.
Currently, our most popular In person programs are Scavenger Hunts, Wellness Walks, Bike Rides and Team Olympics. Those activities are ideal for these unique times because they're not only outdoors, we can easily implement all the safety protocols like Physical Distancing, wearing masks and sanitizing all our equipment.
Yes, hope is in the air but let's not let our guard down. Our wish? That we keep seeing things improve so that come July 4th, we can all be celebrating with our family & friends! In the meantime, do yourself a favor and Get Outside. Now that it's Daylight Saving Time, the days are longer and the weather is nicer. Perfect time to enjoy our beautiful state!