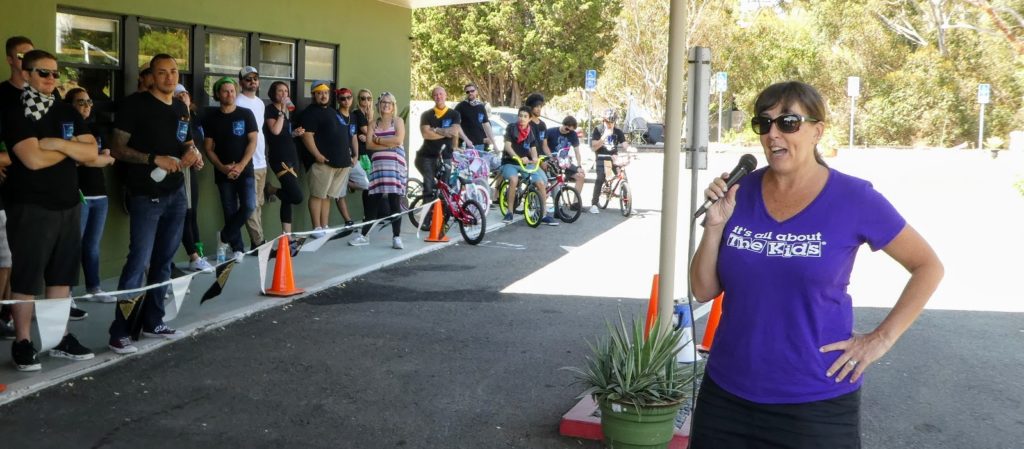 Over the years, we have facilitated many fun and memorable Charity Bike Build programs. Some team building events have been as small as five people while others as large as 250-plus. Charities such as Ronald McDonald House, Boys & Girls Club of Vista, Support the Enlisted Project and Toys for Joy are just some of the many organizations who have received our donated bikes. While it's always a great feeling to give away bikes to deserving kids, we felt the call to do more. We couldn't put our finger on it but we knew we were supposed to expand the program and do something that was truly "Out of the Ordinary."
So our team brainstormed and added several new features to the program including a partnership with our dear friends at "It's All About the Kids Foundation." Led by Angela Brannon-Baptiste, their mission is to feed San Diego's kids and teach them healthy nutritional eating habits. The organization also believes that exercise plays an important component to good health, which is where we come in!
Since 2016, we have donated countless bikes to this amazing organization but last year, our partnership went to a whole new level. As part of their healthy lifestyle curriculum, Angela and her team developed a "Bike Club" where students learn all about bike safety, the rules of the road and how to properly take care of their bikes. One of the Bike Clubs is at King Chavez Academy. KCicletas Bike Club is led by Francisco, who is also a Graphics Art teacher at the school. Many of their bikes were donated through our Corporate Charity Bike Build programs.
This year, Wilson Middle School was added to the lineup and now has its own Bike School! Led by Guidance Counselor Rob Tracy, the club is gaining momentum and it's so rewarding to see kids not only learn new bike skills, but they're also taught good healthy eating habits thanks to Angela and It's All About the Kids. We are also excited because the kids at Wilson Middle are getting invaluable, one-on-one training with Taylor, who's Out of the Ordinary's bike tech and a BMX Champion, so he knows his stuff!
Teaching kids healthy eating and exercise habits starts at a young age so we're excited to be partnering with It's All About the Kids as this is an important mission. Our goal is to keep growing and bringing this program to more schools throughout San Diego County. If you'd like to help, reach out to us directly at darlynne@groupadventures.com. We also encourage you to click on this link: It's All About the Kids.